Free Shipping on all orders over $150.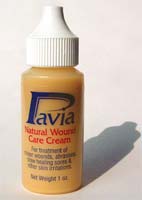 Pavia Natural Wound Care Cream™
Pavia Natural Wound Care Cream™
This product is the natural choice for wound healing because it kills bacteria while stimulating the production of collegen which helps speed healing. The active ingredient is Propolis from bee hives.It contains NO STEROIDS which are known to slow or inhibit healing.
Per Bottle: $18.00
ORDERING INFORMATION
Shipping: Free shipping with $150 purchase, otherwise $10 shipping charge applies. Product will be shipped within 3 to 5 days of order. Alaska, Hawaii, and international orders additional shipping will be billed. Please email us for a quote. Your privacy is important to us. Your information will not be shared or sold to any other person or company.