Free Shipping on all orders over $150.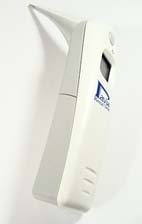 Pavia Rectal Temp Thermometer™
The Pavia Rectal Temp takes an accurate rectal temp in just 6 seconds, and is the fastest veterinary rectal thermometer on the market today. It is a great time saving device for small animals as well as horses. It is cordless and operates on 2 AAA batteries. There are no confusing icons to scroll through and no expensive probe covers to buy. Available from most veterinary distributor companies or direct from us. More info (PDF)
Item Price: $59.90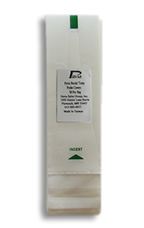 Pavia Probe Covers™
The Pavia Probe Covers are designed to fit the Pavia Rectal Temp thermometer, the fastest rectal thermometer for veterinarians on the market today.
Bag of 50: $8.00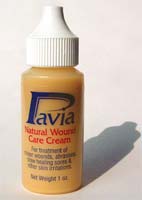 Pavia Natural Wound Care Cream™
Pavia Natural Wound Care Cream™
This product is the natural choice for ear infections because of its effectiveness on pseudomonas, staph, and yeast. The active ingredient is Propolis. It is an excellent wound care product because it kills bacteria while stimulating the healing process. It contains no steroids which are known to slow or inhibit healing. Read a Case Study. Read testimonials: One and Two. More info (PDF)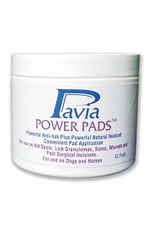 Pavia Power Pad™
Pavia Power Pads prevent licking and promote healing with a convenient pad application method. Perfect for hot spots, lick granulomas, sores, wounds, and post surgical incisions. More info (PDF)
ORDERING INFORMATION
Shipping: Free shipping with $150 purchase, otherwise $10 shipping charge applies. Product will be shipped within 3 to 5 days of order. Alaska, Hawaii, and international orders additional shipping will be billed. Please email us for a quote. Your privacy is important to us. Your information will not be shared or sold to any other person or company.